The 2022 Subaru Love Promise Customer and Community Commitment Award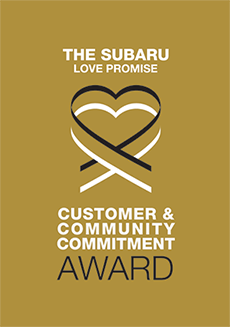 We've been nationally recognized for our dedication to our customers, our community, and the Subaru Love Promise.
We're honored to receive the 2022 Subaru Love Promise Customer and Community Commitment Award. This award nationally recognizes elite Subaru retailers who provide an exceptional customer experience at every interaction with Subaru. These retailers have also demonstrated an outstanding commitment to supporting passions and causes in their local communities in important areas such as the environment, community, health, education, and pets.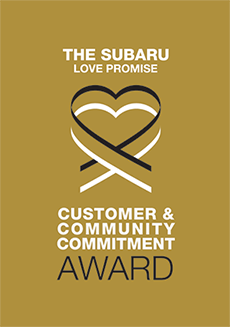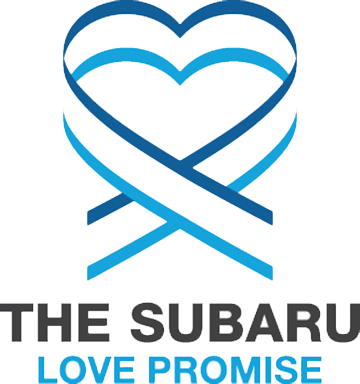 What is the Subaru Love Promise?
Subaru and our retailers believe in making the world a better place and the Subaru Love Promise is our vision of respecting all people. This is our commitment to show love and respect to our customers and to work to make a positive impact in the world.
How is Subaru of Moon Township dedicated locally to the Love Promise?
Our Love Promise can be seen in various partnerships with local charities and non-profits. We're grateful for the opportunity, not only to be a part of our community, but to serve it as well.
Animal Friends of Pittsburgh
Moon Area School District
Moon Area School District
Moon Area School District
Children's Hospital of Pittsburgh
Love Promise Stories from Subaru of Moon Township
Subaru and Subaru of Moon Township believe in making a positive impact on the communities in which we live and work. We uphold that belief through our Love Promise Community Commitment. Every month, we select inspiring stories from customers and partners from around our area who strive to support our collective commitment and feature them here
Thank you, Subaru! - Monica D
Thank you, Subaru of Moon Township for the gifts of blankets donated! Our patients here at the Moon UPMC Cancer Center are enjoying their gifts, and our staff is enjoying giving them something warm and soft to use in the office during treatments, or at home. Thank you for caring for the community! Sincerely, Monica Daniels/Practice Manager and Staff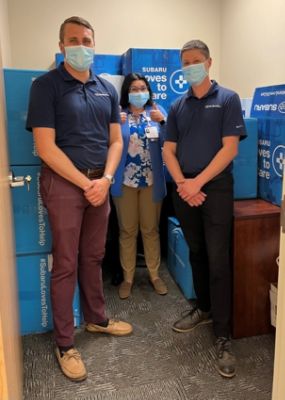 ---
Large Donation to Make-A-Wish - Stephanie P
The associates of Subaru of Moon Township located outside of Pittsburgh, PA came together in a huge way to raise funds for their Hometown Charity - Make-A-Wish Greater Pennsylvania and West Virginia during the 2021 Subaru Share the Love Campaign. A donation of $31,438, was presented to Stephanie Pugliese the director of development.. These funds will help to fulfill the wishes of seven wish kids from the area.... Samuel who will be snorkeling in the United States Virgin Islands Adalind who will be visiting the Orlando theme parks Jacob who is receiving a fishing kayak Hudson who will be camping in Deer Creek Laniyah who would like to meet a celebrity Austin who wants to be a marine biologist Connor who is receiving an above ground swimming pool Thank you to the associates of Subaru of Moon Township for their efforts and good will!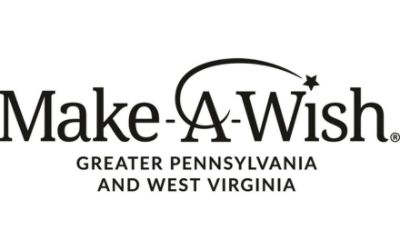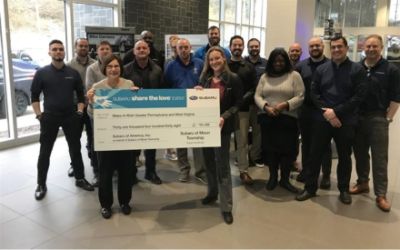 ---
Donation to Bible Way Church of God In Christ - Maureen B
Thanks to my team who generously provide hams to the Bible Way Church of God In Christ this holiday season!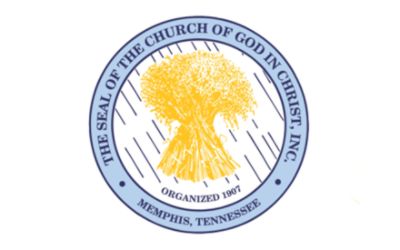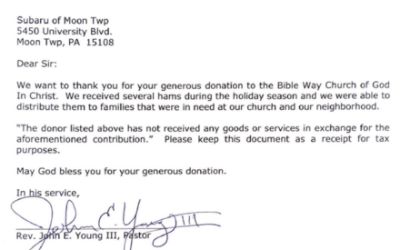 ---
Subaru Shoots Hoops with WES! - Donna C
Weirton Elementary School gives a BIG shout out to Moon Township Subaru for granting funds this 2021-2022 school year! We are grateful to have been chosen as a recipient for a $10,000 grant to enrich our physical education program at WES. With the grant funds, we have constructed four new half court basketball areas on our playground along with fencing that provides safety for our students. This new sports area will provide hours of enjoyable basketball instruction and playing for our elementary students. These learned basketball skills will feed into the middle school basketball program. The students look forward to utilizing these new basketball facilities at our school in the days ahead. Thank you, Moon Township Subaru, for your generosity and support to WES.
---
Etna: An Underdog From Animal Friends - Tricia P
Etna along with some other dogs came to Animal Friends as part of a Humane Investigation case. While at Animal Friends, it was discovered by the medical team that Etna had advanced glaucoma and had to have a double enucleation. While she spent some of her time in a loving foster home Etna was able to gain her confidence and learn how to walk on a leash while being blind. Not long after recovery Etna was adopted into her loving forever home with her best 4-legged friend Denali.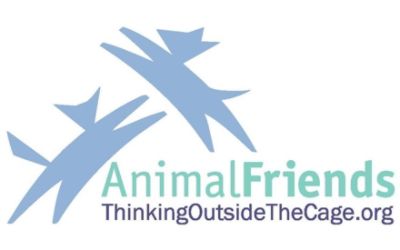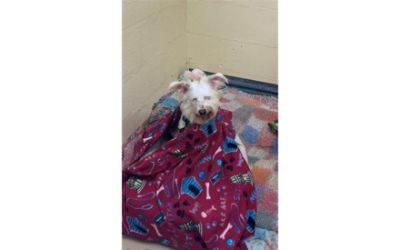 ---
Subaru of Moon Twp donates $25000 to Make-A-Wish - Stephanie P
Dear Maureen, Associates at Subaru of Moon and Customers: We would like to thank the associates of Subaru of Moon Township for continuing to raise funds as the Make-A-Wish Hometown Charity during the Subaru Share the Love Campaign. On behalf of Make-A-Wish Greater Pennsylvania and West Virginia, we are acknowledging your incredible gift of $25,803.04, received on March 31, 2021. According to IRS regulations no goods or services were exchanged for this wonderful donation. We are delighted to recognize Subaru of Moon Township as a Wishmaker in the Make-A-Wish annual report, newsletter and on our website. We are thrilled to inform you that funds raised during your campaign will help to grant the wishes of five very deserving kids. For 38 years, our chapter of Make-A-Wish has been successfully granting life-changing wishes for children with critical illnesses, and we're committed to continuing our mission during this current pandemic. We've been busy meeting with wish kids and their families through virtual sessions, we've stayed in touch with our many wish volunteers, and we are busy creatively planning wishes for these amazing children – wishes that are safe, heartfelt, and full of wonder and hope. Inez At 18-years-old, Inez from Pittsburgh has been through some tough times living with sickle cell anemia. The pain from this disease is startling for this young woman who just wants to be with her friends eating Flamin' Hot Cheetos, dancing it up to Nicki Minaj and playing volleyball. But instead, she has been spending much of her time when not at the hospital, at home watching Law & Order SVU and cuddling with her dog. When she can go to school, she enjoys her Spanish and African American history classes. Due to the COVID 19 pandemic Inez was visited by her Make-A-Wish volunteers virtually helping her along to find the perfect wish for this teenager. Originally, she had wanted to spend time at the Orlando theme parks – but due to travel restrictions, this wish was not possible, and Inez was determined that she did not want to wait. So, more contemplating had to be done. Finally, Inez decided that a virtual shopping spree would be the best wish. She could get almost anything her heart desired and since she was moving into her first apartment, she needed lots of stuff. She gave her list of items to her excited volunteers and they went to work finding her an iPhone, a new mattress and bedframe, a TV, Ugg boots to keep her warm this winter, a pretty ring, a beautiful new wig and a hair straightener. Inez also received a gift card to Ichiban Steak House to be used at some point in the future. Helping Inez along with her future goals is exactly what Make-A-Wish is for. Now Inez can live comfortably in her new surroundings assured that she is loved and cared for. Jacob At just 10-years-old this young man from Rochester, PA has had a tough life. Most of his time has been spent in a wheelchair due to his diagnosis of Duchenne's Muscular Dystrophy. But this does not stop him from cheering on his favorite superhero when watching Batman movies, reading about dinosaurs and playing matching games with his siblings. He can practically eat an entire pizza himself and a quick stop at McDonald's is the perfect dinner. His referral to Make-A-Wish was extremely exciting, and he could not wait to meet his volunteer team. Before they even sat down during their visit, he told his volunteers that a trip to Disney World would be the greatest. It was decided that the beginning of March 2020, would be a good time for the trip. As it turns out, this was one of the last wishes to the Orlando theme parks due to the rise of the pandemic. The family had the opportunity to stay at Give Kids the World Village, not far from the parks. The villas were beautiful, and this young man got to stay in the master bedroom with surprise gifts left in his room each evening after returning from the themed parties held each night. There was even a swimming pool with a wheelchair ramp he could utilize to get easily into the cool water after a fun-filled day at the parks. March is a busy time at Disney, but due to his Make-A-Wish button this youngster wore everywhere he went – he was able to go to the front of every line making him feel incredibly special. The time he spent with his siblings riding the amusement park rides, watching the 3D shows and meeting his favorite animated characters was joyful and memorable. We're honored and privileged to have fulfilled the wishes of five special children and we remain so grateful to our generous donors for making what we do possible. Best wishes, Stephanie Pugliese Director of Development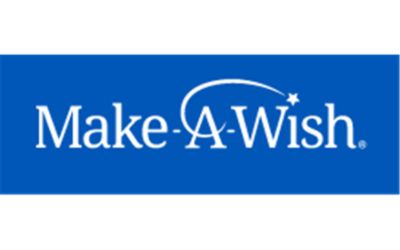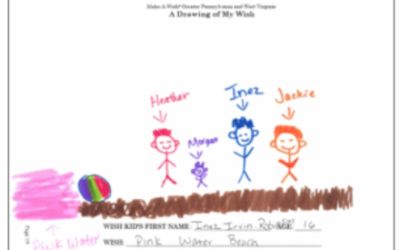 ---
Kickoff of 2020 Subaru Share the Love campaign - Kelly W
Gabby and Subaru of Moon Township helped West Hills Meals on Wheels kick off the 2020 Subaru Share the Love campaign with a visit from the Planters NUTMobile. During this event, West Hills Meals on Wheels held a Stuff the Subaru Food Drive to help pack the client Blizzard Boxes - which are to be used in the event of delivery cancellations due to inclement winter weather. Thank you Subaru of Moon Township for lending us the Subaru for the day!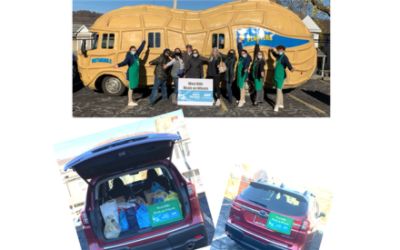 ---
Blizzard Box delivery to Meals on Wheels clients - Kelly W
West Hills Meals on Wheels is so thankful for the support the staff of Subaru of Moon Township has provided them over the years. During the 2020 Subaru Share the Love campaign, Joe and Subaru of Moon Township helped deliver the Blizzard Boxes to our clients in Neville Island. These boxes are filled with non-perishable goods that are to be used in the case of delivery cancellations due to inclement winter weather. ❄️ Thank you for your support!!!
---
Light of Life - Blanket Donation - Jay B
Subaru of Moon Township is proud to have supported the Light of Life Rescue Mission through a donation of blankets for their underserved population. Subaru of America and Subaru of Moon Township donated 5 boxes of blankets to be distributed to those in need this holiday season. Now, more than ever, our community needs to support those without the resources to do so themselves. The Light of Life Rescue Mission is a 501(c)(3) organization based in Pittsburgh. They have several programs catering to the homeless population including men's residential services, women and children's programs, and food and emergency services. Since their inception, they have provided 250,000 meals, 8,000 nights of shelter, and 155 people sheltered nightly. Subaru of Moon Township is thankful to be able to contribute to such a noble charity organization. We look forward to working with them in the future to bring a positive impact to our local communities.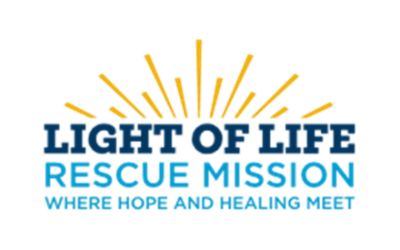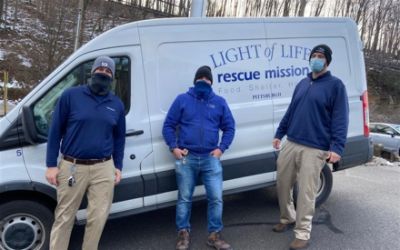 ---
22nd Annual Gerry Dulac Charity Golf Classic - Jay B
Subaru of Moon Township is proud to have supported the Gerry Dulac Annual Charity Golf Classic once again. As a repeat sponsor, we are thankful to have a connection through a former employee to the Parkway West Rotary Club in Pittsburgh. This organization, through a network of 1,500 members, impacts neighborhoods across the country by combatting hunger, health and sanitation needs, and education / job training. The Gerry Dulac Golf Classic is an annual charity event to raise money for our branch of the Rotary, and we cannot wait to support them again next year to raise more funds for a great organization!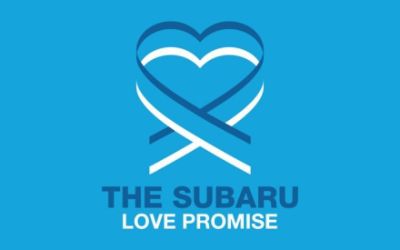 ---